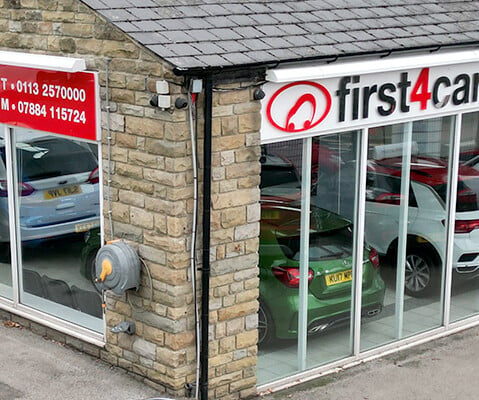 Quality used cars in Leeds
Welcome to First4car.com - the first choice for used cars in the Leeds area. Located in the market town of Pudsey, our dealership has been part of the community for over 22 years and during that time, we've helped many customers find their dream drive.
For us, it's not just about selling a car, it's about selling the right type of car to meet each customer's needs. We pride ourselves on being genuine, honest and approachable in our day-to-day dealings. Our team works incredibly hard to source the best quality used cars at the right price, to ensure we only sell cars we'd want to drive ourselves.
We're on hand 7-days a week (even bank holidays!) to assist you with your car choice. If you'd like a hands-on approach, then our knowledgeable and experienced team will be with you every step of the way. But, if you'd prefer a more hands-off approach, then we are more than happy to give you the time and space to explore our stock and make a decision.
As one of the largest independent used car dealerships in Leeds, we offer plenty of choice with an added personal touch. Whether you are searching for your very first car or looking to upgrade your existing car, we can certainly help. We're even able to provide finance on any of our used cars - which means you could spread the cost of your purchase over a number of years.
Stocking over 150 vehicles
At First4car.com it's all about choice. Specialising in the sale of second-hand cars, we have over 150 nearly new and used vehicles in stock at any one time. Whether you have a budget of £5,000 or £40,000, we have a car for you.
We compare the prices of our used car stock daily to ensure you are getting the best deal possible. As such, there's no need to haggle - our prices are fixed because we know we're selling our vehicles at a competitive price. Look out for the CarGurus logo featured alongside every one of our used cars, which will let you know just how good of a deal you're getting!
Do you have a particular make and model of car in mind? Then you can filter your used car search online and discover models from 30 top-brand manufacturers. Explore the car inside and out at a touch of a button and find out more about each vehicle by reading the accompanying description.
Start your used car search here.
Customer perks aplenty
There are many reasons to buy your used car from us, not least because you'll benefit from a number of perks as a First4car.com customer…
We start by making sure the car you purchase comes with a full HPI (Hire Purchase Investigation) certificate and NMR (National Mileage) checks as standard. Every vehicle also has a full MOT and PDI (Pre-Delivery Inspection) and where required, a service is carried out before we hand the car over to you.
But that's not all! We always go the extra mile to make sure you are covered. You'll benefit from a three month or 1,000 mile warranty as standard (whichever comes first) and we partner with AutoProtect to offer comprehensive extended warranties too. (Purchases made prior to August 1st 2023 have a 1 month or 1,000 mile warranty FOC).
We appreciate that anything can go wrong at any time, so to give you extra peace of mind, we also provide all our customers with FREE AA breakdown cover for an initial 12 month period after purchasing one of our cars.
We buy used cars too
Did you know that we also buy used cars? If you have a car to sell, then we can help! Whether or not you choose to purchase a car from us, we will offer you a good price for your pre-loved car.
Do you have your eye on one of our used cars in stock? Why not take advantage of our part exchange service to reduce the buying cost and forget about the worries that come with selling your vehicle privately.
Head over to the Value My Car page and enter your vehicle details for an initial valuation price.
Where you'll find us
Customers from across West Yorkshire and beyond choose us as their number one choice from where to buy their used car. Our Pudsey-based family-friendly showroom is open 7-days a week, so we look forward to welcoming you…
You'll find our First4car.com dealership situated between Leeds and Bradford, and if you're coming from further afield, we're less than one hour from the cities of York, Manchester, Wakefield, and Doncaster. Head over to the Contact Us page on our website for an interactive map of exactly where you can find us - here you can enter your postcode for step by step directions.
If you're visiting us to collect your newly purchased car, then our team of professional valeters will have your car looking as good as new when you drive home.
Refer a friend
We're so confident you'll have a great car buying experience with us that we've introduced a refer a friend scheme. We appreciate the loyalty shown by our customers, so we'd love to return the favour as a thank you for buying a car from First4car.com. Get in touch for more details.
Our overall aim is to make the car buying experience tailored to your needs, and as hassle free and enjoyable as possible. We hope to see you soon!
First4car.com is a trading style of First4car Finance.co.uk Ltd. Company No 04228164