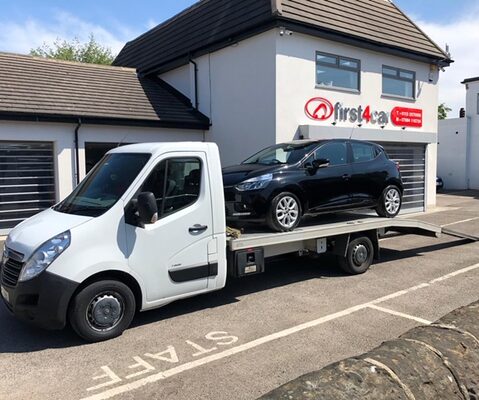 Used car delivery to your door...
Benefit from our Remote Delivery service for a completely contactless used car buying experience. At First4car.com, you can choose to buy a car your way. Whether or not you're local to our independent, family-run dealership, you can decide on delivery straight to your door.
We understand that visiting our used car showroom in Pudsey, Leeds, isn't always convenient for everyone, which is why we offer remote delivery to all customers near or far. When you choose to have a car delivered remotely, we will transport your vehicle to a home.
Online reservation
Begin your used car search today by exploring over 100 vehicles via our online showroom. Every First4car.com vehicle can be inspected in more detail thanks to an abundance of images, alongside an accompanying video so you can see the car from outside in.
Find out what to expect from the vehicle you're viewing by reading the highlights, followed by the full technical data and specifications. If you like what you see, you can proceed with the car's reservation by clicking the red Reserve Now button - you'll find this further down the page.
Before starting the reservation you'll be presented with an introduction to the reserve online process, so you can be sure it is the right choice for you. Every vehicle reservation is subject to a fully refundable £200 deposit, which ensures the vehicle is taken off-sale for 48-hours - read our terms and conditions to find out more.
Personalised video tour
Would you like to see the car up close and personal? If so, we'd be happy to oblige! Here at First4car.com, we pride ourselves on award-winning customer service, which includes a personalised video tour of your vehicle. Drop us a message and we'll arrange a video call via WhatsApp or FaceTime with an experienced member of the team. This one-to-one call also offers the ideal opportunity to ask any questions you may have about the car too.
Delivery for your convenience
What's not to love about purchasing a new-to-you car from the comfort of your sofa?! Why not leave the hard work to us and choose the easy option of our home delivery service. Whether you want your new car delivered to your home address or place of work, your car will be valeted and transported to a place of your choosing - as long as it's within England, Wales or Scotland (delivery charges will apply).
We will take the remainder of your car payment via BACS and at this point, you can choose to take advantage of our complimentary Ozone treatment. Ozone is a leading disinfectant agent that kills any kind of bacteria, germs or viruses (including COVID-19) that could be lurking within the vehicle. You'll also have the chance to speak with us about the Williams synthetic paint protection product too.
Thanks to our 14-day money-back guarantee, you are protected should you change your mind for any reason - terms and conditions apply.
Added benefits
Don't forget that when you purchase a used vehicle from us at First4car.com in Leeds, you'll also benefit from free breakdown cover courtesy of the AA, as well as a three-month or 1,000 mile in house warranty (as of 6th August 2023. Prior to this date the warranty is 1 month/1000 miles) as standard. That's why customers from across West Yorkshire and beyond keep coming back time and time again.
Begin by searching our used cars online.