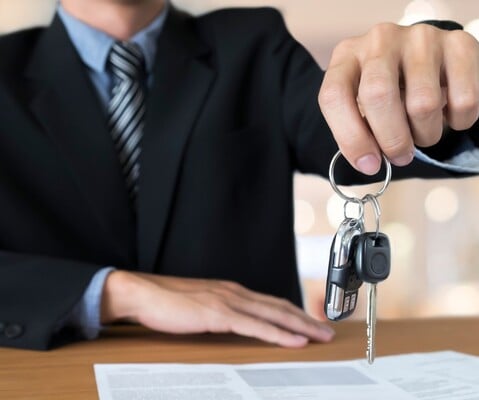 Personal Contract Purchase
What is Personal Contract Purchase car finance?
A very popular form of car finance, Personal Contract Purchase is also referred to as PCP for short. When deciding on what form of car finance is suitable for you and your needs, it's important to have a thorough understanding of your options.
Here at First4car.com, we want to help you make the right decision when it comes to financing a used car. A PCP agreement could be the perfect solution for you if you'd prefer a flexible form of car finance that can offer lower monthly repayments.
How does PCP car finance work?
Because of its simple set up, a PCP deal is a preferred method of car finance for many motorists. It works in three main stages:
Firstly, you decide on the initial deposit amount you wish to pay upfront (remember, it may be that you can secure a zero deposit agreement to fund a used car - speak with us about this option).

Secondly, any upfront payment will then determine the amount you'll need to borrow from the lender in order to purchase the car.

Lastly, just before your agreement comes to an end, you'll be able to decide if you wish to keep the car. This choice is only possible by making a balloon payment (the remaining balance, agreed before the contract starts), or you can hand the car back and begin a new finance deal. Alternatively, choose to part exchange the vehicle and use any equity available to purchase another car.
Understanding the advantages and disadvantages of a PCP agreement
As with any loan agreement of this kind, it's really important that you can afford to make the monthly repayments outlined by the lender. Failure to do so could result in the car being repossessed by the finance company.
To help you decide if PCP is the route for you and the correct choice of used car finance to suit your needs, we've listed the advantages and disadvantages of entering into a Personal Contract Purchase agreement:
| | |
| --- | --- |
| PCP advantages | PCP disadvantages |
| An opportunity to secure low monthly repayment terms that could prove more favourable than a private loan. | During the contract period, you won't be the official owner of the car. This means that if you are unable to meet the repayments, your car is at risk of repossession by the lender. |
| A flexible finance solution that is designed around you and your needs - you simply need to decide if you wish to keep the car at the end, or begin a new agreement on another vehicle. | If you wish to own the car at the end of the agreement, this will be subject to what's called a 'balloon payment' - a final settlement amount in order to become the owner. |
| You'll be protected against the car's true depreciation, as a Guaranteed Future Value (GFV) agreement determines what the car will be worth. | A PCP agreement is subject to an annual mileage limit on the car. If this is exceeded, you will be liable for extra costs charged per mile of usage. |
Personal Contract Purchase deals on used cars at First4car.com
Speak to us about securing a competitive PCP deal on a used car. We proudly stock around 150 nearly new and secondhand vehicles from our family-run dealership located in Pudsey, Leeds.
No matter what type of car you're looking for, we are confident we can help you find the right vehicle for your needs. Whether you're searching for a reliable hatchback to get you to and from work, a generously-sized SUV for the school run, or a coupé for weekends away, then you've come to the right place.
Finding the right car funded by a finance deal to suit, doesn't have to be difficult. We're a leading used car dealership in Leeds, serving customers from across West Yorkshire and beyond. At First4car.com, you can expect to be greeted by a friendly face, a tasty cup of tea or coffee, and a helping hand when it comes to choosing your new set of wheels!
Get started by searching our used cars online.
_____________________________________________________________________________________
First4car.com finance - the small print
We work in partnership with a number of third-party finance companies, such as; Evolution, Close Brothers Motor Finance, MotoNovo, Santander, and Blue Finance. Get in touch to discuss your requirements or complete a free 'soft search credit check' online - you'll find this available on each of our used car listings. This check does not affect your credit score and has no impact on any future credit applications you might make. It's quick and easy to apply either online or over the telephone.
We can even get your finance approved over the phone - you can then agree the contract and sign it remotely, and in some instances, even collect the car on the same day. Simply click on the vehicle of your choice to find out more - scroll down the page and click the green Free Credit Check button..
We are trading as a credit broker and not a lender, and are authorised and regulated by the Financial Conduct Authority, firm reference 652258. We can introduce you to a limited number of lenders, while providing details of finance products available. We will not charge you a fee for an introduction but may receive a commission from the lender. Lender's commissions may vary. The commission received does not influence the interest rate you will pay. For questions about commission, please speak to us.
Representative finance examples are for illustrative purposes only. Finance is subject to status and credit acceptance. Terms and conditions apply. Available to driver's aged 18 and over - UK residents only. Guarantees and/or indemnities may be required. Excess mileage and damage charges may apply when the vehicle is returned.
For those customers wishing to use their own finance company outside our partnered finance providers, a fee of £399 is added to the price of your vehicle to cover administration costs. First4car is regulated by the FCA for Consumer Credit. All our sales team are SAF APPROVED having successfully passed the Specialist Automotive Finance Competency Test. We are committed to protecting your personal data. Please see our
Privacy Policy
for further details.